If you like magazines dedicated to TS3 that magazine NEWLINE for you. This is project of site sims-new.my1.ru which started in September of last year. This magazine is aimed on Russian-speaking audience but you may just looked through beatiful pictures. We trying to create the best magazine and hope that you like this.
In the magazine is a lot of talented and hard-working people including me. I am in the position of a corrector.We collect information in the sims world about new addons, Store, interesting facts about game process. We testing new addons and write about it. Also you may learn about interesting places in the game, about fashion, about make-up on all cases of life, adaptation of sims dishes to real, humor, news of our site and another!
Please appreciate our work :)
I show you all of our magazines. Plesant view!
Если вам нравятся журналы, посвященные TS3, то вам должен прийтись по душе журнал NEWLINE. Это проект сайта sims-new.my1.ru, стартовавший в сентябре прошлого года. Журнал рассчитан на русскоязычную аудиторию, но вы можете просто его полистать, посмотреть на картинки. Мы стараемся сделать наш журнал как можно лучше и надеемся, что он вам понравится.
Над созданием журнала работает много талантливых людей, в том числе и я. Я работаю на должности корректора. Мы собираем информацию по всему симс-миру о грядущих дополнениях, Стор, интересных фактах об игровом процессе. Мы тестируем новые аддоны и пишем об этом. Также вы найдете кучу полезной информации об интересных местах в TS3, о моде, создании неповторимого макияжа для ваших симов, узнаете реальные рецепты приготовления блюд из игры, о юморе, новостях нашего сайта и многое другое.
Прошу вас, оцените нашу работу!
Я представляю вам все выпуски журнала. Приятного просмотра!
Just click to picture
Просто нажмите на картинку
NEWLINE
September 2012
NEWLINE
October-November 2012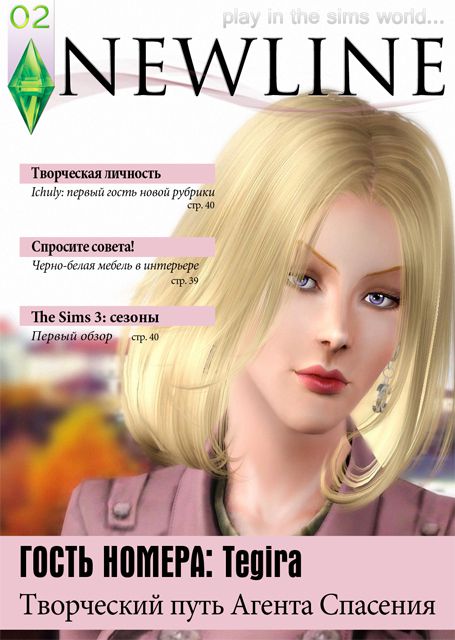 NEWLINE
December 2012 - January 2013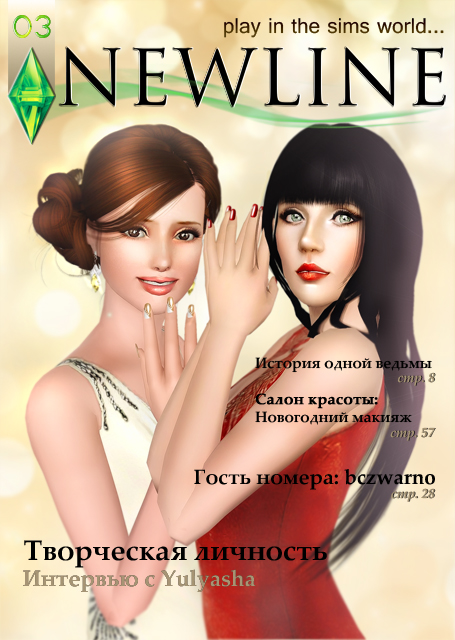 NEWLINE
February - March 2013